Transfers to La Tania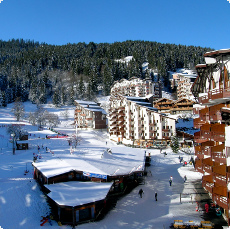 Financed by the Winter Olympics in Albertville, La Tania was only officially opened in 1990 but has flourished ever since. This family-friendly resort sits at the relatively low altitude of 1350m but benefits greatly from excellent links with neighbouring Meribel and Courchevel resorts as well as access to the huge Trois Vallees ski area.
The majority of La Tania's apartments and chalets are ski-in/ski-out and have been designed much more in harmony with their surroundings than the vast majority of French resorts. Accommodation of all types also tends to be much more affordable than some of the bigger-name resorts in the area which share the same ski terrain.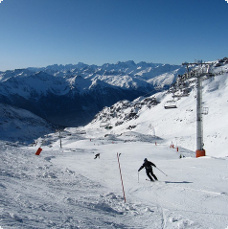 The pretty woodland setting produces long ski runs through trees down in to the village. Although artificial snowmaking is essential at this altitude, La Tania have vastly improved their capability to do this in recent years. A gondola from one end of the village leads everyone up to the slopes, but there are rarely any long queues.
Although only a small village La Tania still has all the local amenities that you could need, plus restaurants and bars playing host to live music and apres-ski drinks deals. The nightlife is mostly low-key but there are a few bars that get lively later on.
Away from the mountain activities, snowmobiling, toboganning, snowshoeing and paragliding are all available to keep all members of the family happy.
Airport Transfers to & from La Tania Ski Resort

To Search, Compare, Book & Save on ski transfers to La Tania we recommend using Snowcompare for all the best airport transfers on one easy-to-use website.
Getting to La Tania
With its relatively low altitude and location close to the entrance to the Tarentaise Valley - La Tania is one of the easiest ski resorts to travel to in the area. If you are planning on spending a holiday exploring the large Three Valleys ski area then La Tania has some of the quickest airport transfer times available.
Chambery is the closest airport to La Tania with a direct drive time of about 1 hour 30 minutes. If you can find a reasonably priced flight to Chambery then this will provide the cheapest and quickest onward travel options. Unfortunately, flights here have been steadily reducing in recent years as the airport concentrates more on private jets and package holiday companies.
Geneva, Grenoble & Lyon airports all sit at a roughly equal distance away from La Tania ski resort. All will take roughly 2 hours 30 minutes on a good run, but of course this time will increase on busy weekends and when there is snow on the roads. Many private transfer companies will want to leave at least 3 - 3 hours 30 minutes for the journey on a Saturday.
Geneva airport tends to be the most popular travel route through to La Tania because it handles a higher volume of international flights and low-cost airlines. For this reason there tend to be many more private & shared transfer options between Geneva airport and La Tania, and the prices are therefore often more competitive. Private transfers from all the airports are easy to arrange, but if you are travelling on a peak week it is best to book early to get the best possible deals.
Airport Transfer Times & Distances to La Tania
All timings based on a private transfer journey in good weather and traffic conditions
Chambery airport to La Tania - 103km / 1 hour 30 minutes
Geneva airport to La Tania - 140km / 2 hours 30 minutes
Grenoble airport to La Tania - 170km / 2 hours 30 minutes
Lyon airport to La Tania - 180km / 2 hours 15 minutes
Private Transfers to La Tania
Private transfers to & from La Tania are easily the most convenient way of travelling for groups of skiers & snowboarders. The journey time is one of the shortest in the area - but we would still recommend organising private transfers well in advance of your holiday. Arriving and trying to find taxis will be difficult as well as more expensive.
Snowbus can arrange private transfers to La Tania from Chambery, Geneva, Grenoble & Lyon airports. Our door-to-door transfers can run at any time during the winter months, and are arranged to match your incoming and outgoing flights.
Private transfers are by far the easiest and most convenient way of travelling between the airport and your accommodation in La Tania. Snowbus are one of the only companies who organise La Tania airport transfers for large groups. Our large minibuses can cater for groups of up to 19 passengers (and larger groups on request). If you want to spend the least amount of time travelling, and the maximum amount of time in La Tania then Snowbus private transfers are perfect for you and your group.
Snowbus private transfers are now available to book through our partner website Snowcompare.com. Using this website means the best private transfer deals are available easily. By putting all the best local, licensed transfer companies together on one website they ensure booking private transfers to La Tania is easier and cheaper than ever before.
Shared Transfers from Geneva Airport to La Tania
Snowbus provides a full shared transfer service between Geneva airport and La Tania ski resort on Saturdays and Sundays throughout the winter. With shared transfers you only pay for the seats you use - making it one of the cheapest La Tania transfer routes with prices from just £55pp
Snowbus shared transfers depart regularly from Geneva airport and have a short journey time and a convenient stop in the centre of La Tania resort. For smaller groups or individuals, shared transfers are the cheapest and most convenient way to travel between Geneva airport and La Tania.
Saturday Shared Transfer Times
Buses depart Geneva airport at 10:30, 12:00, 14:15, 16:30, 19:30 & 21:30
Buses depart La Tania ski resort at 06:20, 07:45, 10:45, 13:45 & 15:45
Sunday Shared Transfer Times
Buses depart Geneva airport at 10:45, 14:00, 16:30 & 18:15
Buses depart La Tania ski resort at 06:35, 09:15, 11:30 & 14:15
Shared Transfers from Grenoble Airport to La Tania
Snowbus run shared transfers between Grenoble airport and La Tania ski resort every Saturday of the ski season. With prices from just £62pp this is one of the cheapest ways of travelling from Grenoble to La Tania
Snowbus have eight transfer buses running at regular intervals on Saturdays all through the winter season. We use smaller minibus vehicles meaning a quicker and more convenient journey for our Grenoble shared transfer passengers.
Saturday Shared Transfer Times
Buses depart Grenoble airport at 12:00, 14:30, 16:00 & 18:45
Buses depart La Tania ski resort at 06:40, 09:30, 10:55 & 13:05
Google Maps of Shared Transfer Bus Stops

Resort Maps & Shared Transfer Bus Stops