Transfers to Val Thorens - Centre & UCPA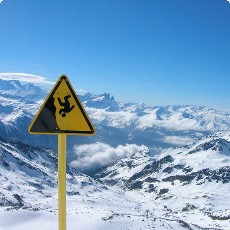 As the highest ski resort in Europe at 2300m, the town of Val Thorens rises above the tree line and has built a reputation based on hard skiing and equally hard partying.
A purpose-built town, Val Thorens has developed in a more harmonious way than many other ski resorts in the area. A wide range of hotels have been built to cater for all budgets, and most accommodation is close to the slopes for easy access to lifts.
Restaurants to suit all tastes exist in Val Thorens, as well as a livelier apres-ski and nightlife than is found in the majority of French resorts. Being extremely popular with British students and young Scandanavians, Val Thorens keeps the party going until the early hours.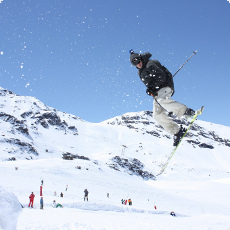 The high altitude makes Val Thorens one of France's most snow-sure resorts. The north facing slopes give it excellent snow cover and piste reliability plus shelter from the wind on the majority of popular pistes. The local ski runs around Val Thorens are largely aimed at intermediate skiers, but with easy access to the massive Trois Vallees ski area every level is catered for in the surrounding terrain.
Away from the slopes, a large sports centre operates in the centre of town and there are plenty of other activities such as ice driving, paragliding and snowmobiling for those seeking a alternative kind of adrenalin rush.
Airport Transfers to & from Val Thorens Ski Resort

To Search, Compare, Book & Save on ski transfers to Val Thorens we recommend using Snowcompare for all the best airport transfers on one easy-to-use website.

For shared transfers to Val Thorens we recommend using Ben's Bus for the cheapest bus journeys from Geneva, Grenoble and Lyon airports.
Getting to Val Thorens
Val Thorens popularity during the winter months mean plenty of transport options exist to and from the resort. For European and international travellers the easiest method of travel will be a flight to one of the local airports followed by either a shared or private transfer.
Four local airports are recommended for trips to Val Thorens. Chambery is the closest airport to Val Thorens, but is also small with a limited range of commercial flights. Geneva airport is the most popular of the local transport hubs. Despite being just over the border in Switzerland it is much larger, and as such can provide cheaper and more convenient flights for getting to Val Thorens. Grenoble and Lyon airports are further away than Chambery, and deal with less low-cost flights than Geneva, but provide a good option if you can find a keenly priced flight to either.
There are a number of airport transfer options to Val Thorens depending on your group size and budget. Private taxi transfers operate from any of the airports, although we would always recommend booking them well in advance. Most companies will operate 8 seat vehicles but options do exist for larger vehicles for big groups. For smaller groups and those skiing on a budget shared transfers will be a much better option. Paying a cheap, per person price for a scheduled transfer service may involve a little waiting time, but the money saved will be worth it dependent on your group size.
Airport Transfer Times & Distances to Val Thorens
All timings based on a private transfer journey in good weather and traffic conditions.
Private Transfers to Val Thorens
Private taxi transfers between the airports of Chambery, Geneva, Grenoble & Lyon and Val Thorens ski resort are relatively easy to find and book online. Booking a private ski transfer means you are hiring the whole vehicle and driver just for your journey. Your driver will meet you straight from your flight and take you directly to the vehicle. Once your luggage is loaded they'll get you right to your accommodation door as quickly and safely as possible. There's no waiting around with a private transfer - leaving you as much holiday time as possible.
The vast majority of private transfer companies operating in and around Val Thorens will use 8-seat minibuses which are well equipped for the snowy mountain roads. If your group is around 4 or more people then you will find private taxi transfers to be the most convenient method to travel to Val Thorens from any airport. Splitting the overall price between a group helps keep costs down, and on a week ski holiday you'll want to spend more time in Val Thorens resort rather than waiting at the airport for a bus.
For groups of over 8 people it is still possible to get private transfers in larger mini-coach vehicles. Select companies in the area provide the same door-to-door taxi service to Val Thorens for any size group of skiers & snowboarders. If you're lucky enough to have enough friends or family to fill a chalet or two then hiring a private micin-coach or coach from the airport to Val Thorens is definitely the best way to go.
We now sell all private transfers from Chambery, Geneva, Grenoble & Lyon airports to Val Thorens through our sister website Snowcompare.com. They work with the best reliable and licensed transfer companies in the Val Thorens area and make finding the right ski transfer for your group easier than ever before. If you're booking for an airport transfer take a look at the prices on Snowcompare to compare & save on Val Thorens ski transfers.
Shared Transfers to Val Thorens
Shared transfers are a cheap, budget-friendly way of travelling to Val Thorens ski resort. By setting regular departure times for buses from the airport and resort, shared transfers combine passengers from multiple flights to bring the cost down for everyone.
Shared transfer services are definitely a more cost-effective way of transferring from the airport to Val Thorens if you are travelling as an individual or part of a smaller group. Dependent on your flight times, there can be a little waiting time at the beginning and end of your holiday, but the money saved will more often than not make it worth your time.
These regular bus lines exist between all four of the local airports and Val Thorens ski resort during the winter months. Shared transfers from the smaller local airport in Chambery can be infrequent, but due to its closer proximity to the resort private transfers between Chambery airport and Val Thorens are more affordable anyway.
From Geneva, Grenoble & Lyon airports it is relatively easy to find a shared transfer service to Val Thorens for ski holidays. On weekends these services run regularly and are pretty convenient with minimal waiting time for passengers. Please be aware though that on weekdays these timetabled services are greatly reduced due to the lower number of incoming flights and demand for onward travel.
We would always recommend checking shared transfer timings in conjunction with your preferred flights. Finding a cheap flight which lands late at night when there are no bus services can lead to a more expensive private transfer being required.
Resort Maps & Shared Transfer Bus Stops