Transfers to Les Menuires
Known for its convenient layout, and with an easy-going attitude missing from some larger French resorts, Les Menuires is a great value base for holidays. Set at 1,850m, one of Les Menuires biggest plus points is that it sits directly at the heart of the huge Trois Vallees ski area with direct links to 600kms of pistes plus snowparks, boardercross courses and easily accessible off-piste areas. The resort also benefits from the same high altitude skiing and snow cover as Val Thorens, but offers a more restrained experience for families and more mature groups. Les Menuires accommodation is plentiful and has been designed to fit around the surrounding mountains and allow hassle-free access to everything on offer.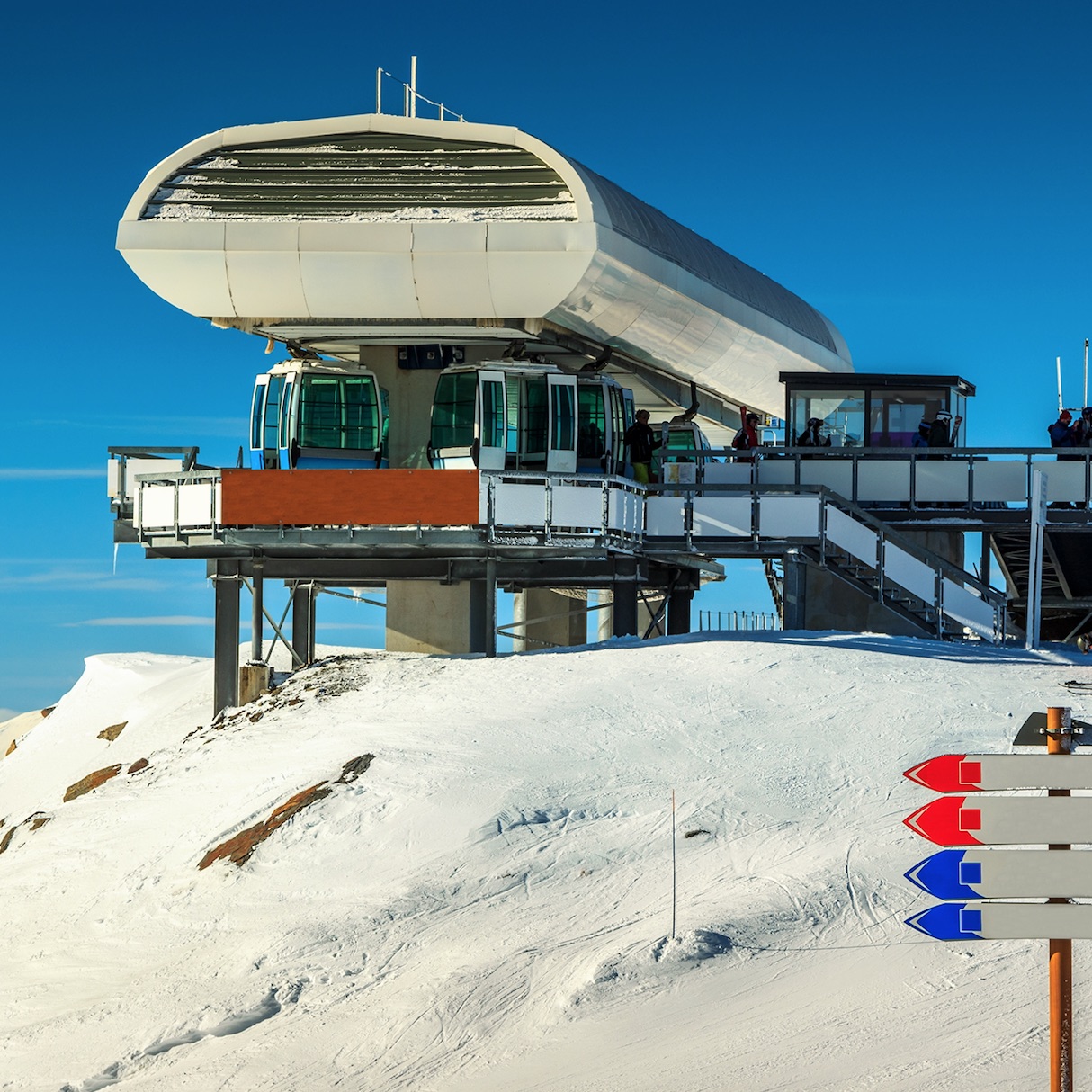 The local pistes offer something for all levels of skier and snowboarder with red and blue runs converging into the town, but the real goal from Les Menuires should be to head out into the wider ski area. Links to Val Thorens and Meribel are quick and easy with ski lifts providing efficient access to start exploring the huge Three Valleys ski area. Catering largely to families, children are also well looked after with free ski passes for under 5s, specially designed ski areas and fun zones.
For those not looking to ski there are plenty of activities such as snowshoeing, snowmobiling, toboganning as well as the local swimming pool, spa and fitness centre. Family-friendly entertainment is arranged throughout the winter season and includes torch-lit descents, children's shows and ice sculpting.
Airport Transfers to & from Les Menuires Ski Resort

To Search, Compare, Book & Save on ski transfers to Les Menuires we recommend using Snowcompare for all the best airport transfers on one easy-to-use website.

For shared transfers to Les Menuires we recommend using Ben's Bus for the cheapest bus journeys from Geneva, Grenoble and Lyon airports.
Getting to Les Menuires
Les Menuires ski resort is easily accessed from any of the four international airports in the local area - Chambery, Geneva, Grenoble & Lyon. Private and shared transfer options exist between all the airports and Les Menuires, but we would recommend checking prices and booking in advance at all times. Arriving at the airport and relying on finding a taxi could result in either a big delay or an overly expensive journey.
Les Menuires doesn't have the fastest airport transfer time for a ski resort, but it is still easily manageable. The long winding road from the valley floor up to Les Menuires and Val Thorens can become particularly busy on the weekends so be sure to allow extra journey time.
Chambery airport is the closest to Les Menuires - but many more skiers & snowboarders will take the option to travel through Geneva, Grenoble or Lyon. This is because Chambery is a relatively small airport operating only during the winter months. Subsequently it tends to see less flights as well as suffering the most if there is any bad weather in the Alps. If you can find a cheap, convenient flight to Chambery though you can save yourself an hours travelling time versus the bigger airports.
Geneva, Grenoble and Lyon all take their fair share of low-cost flights - particularly on weekends during the winter months. Despite being in neighbouring Switzerland, Geneva airport probably the higher amount of onwards travel options for Les Menuires and therefore the cheaper airport transfer tend to be from here. If your most convenient flight lands in Lyon or Grenoble though there are still plenty of convenient ski transfer options to be found.
All three airports have similar travel times despite the miles travelled varying quite dramtically. This is due to the ease of connection to local highways as well as whether the easiest route is taken via highway or toll road motorway (which is much faster). Please be aware that on Saturdays the journey time through the Tarentaise Valley and up/down to Les Menuires will be much, much slower due to traffic - so allow extra journey time. If you book with a reputable private transfer provider they will know to take this in to account automatically.
Airport Transfer Times & Distances to Les Menuires
All timings based on a private transfer journey in good weather and traffic conditions
Private Transfers To Les Menuires
A private transfer is by far the most convenient way to travel between the airport and Les Menuires ski resort. Booking a private transfer in advance means your driver will be waiting when you land and will take you directly to your chalet door. Having use of the whole vehicle means it is comfortable, convenient and definitely the quickest way of travelling to the ski resort.
Private transfers between Les Menuires ski resort and the four local airports - Chambery, Geneva, Grenoble & Lyon - are readily available and can be booked any time of the day, seven days a week to fit in with your flights. It is essential to book this type of service before you travel though as any private taxi booked at the airport will be much more expensive. Unfortunately no Uber-type service exists for these long journeys either.
Local Geneva and Les Menuires private transfer companies are available to take your booking online, but it is always worth shopping around as prices can vary a lot. Similarly, if you are particularly keen on a particular vehicle-type, or a driver who can speak English then it is key to read reviews from previous customers before booking.
The vast majority of companies will operate their private transfers in 8 seat minibuses. This allows space for groups to travel comfortably alongside their luggage. If your group is larger than 8 then you will need to find a provider with access to larger vehicles, which almost always works out cheaper than sending two smaller minibuses. Smaller groups and individuals may want to consider shared transfers as the cost of hiring a whole vehicle for a long journey will prove expensive if only split between 2 or 3 passengers.
Our recommendation is that Les Menuires taxi transfers are available to book directly from our partner website Snowcompare.com. They work with all the best licensed transfer companies in each ski resort to ensure you get a great deal. By putting prices from reliable transfer companies alongside customer reviews on one website they ensure you get the cheapest Les Menuires private transfer prices available.
Shared Transfers to Les Menuires
Shared transfers from the airport to Les Menuires are by far the cheapest travel option available to individuals and smaller groups of skiers & snowboarders. By running a regular timetabled transfer service, companies can combine passengers from multiple flights going to the same destination and bring the per person cost down for everyone.
Shared transfers to & from Les menuires ski resort are available from all four local airports - Chambery, Geneva, Grenoble & Lyon. The service from Chambery is much smaller to match the customer numbers though. Shared bus services from Geneva are regular and run throughout the week and weekends. Please be aware that there is a much more limited service on weekdays though so it is best to check shared transfer timings at the same time as booking your flights.
Shared services from Grenoble and Lyon airports are readily available over the weekend, when the vast majority of people travel, but are not so plentiful during the week. Most companies will tend to operate just Friday to Monday to match the customer demand for travel from the airport to Les Menuires.
Shared transfers will tend to drop-off and collect at a set location in Les Menuires, but luckily the resort is compact enough for this to not be too much of an inconvenience. The price difference between this service and a private door-to-door journey usually more than make up for a 5 minute walk to the hotel.
For the easiest way to book shared transfers from the airport to Les Menuires we would recommend looking at our sister website Snowcompare.com where they have compiled several of the best services on to one website so you can look at the various different services available and book directly.
Resort Maps & Shared Transfer Bus Stops