Transfers to Tignes - Val Claret, Le Lac, Lavachet, Les Boisses, Les Brevieres & UCPA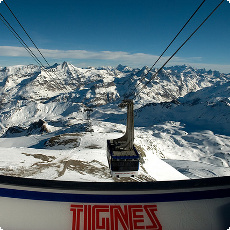 With access to over 300km of exceptional ski runs within the Espace Killy; Tignes comprises of five interconnected villages at varying altitudes which are well connected by both bus and piste.
Val Claret sits at 2100m and the snow park and half-pipe close to the town have previously played host to the Winter X-Games, British Championships, and Navy Ski Championships. Le Lac is generally considered to be the main part of Tignes centred around the lake area. Hosting plenty of bars and restaurants, Le Lac offers much of the apres-ski entertainment in town. Lower in the valley and below the impressive dam sits the village of Les Brevieres, which generally has a quieter, more traditional atmosphere perfect for families.
Tignes is a high-altitude resort with one of the best snow records in Europe and the Espace Killy is regarded as one of the best ski areas in the world for both easily connected pistes, as well as lift accessed off-piste runs. The 3000m Grande Motte glacier also offers year-round skiing, and is easily accessed by the underground funicular train in just seven minutes.

Away from the slopes there are a good selection of restaurants and bars scattered around all the villages as well as four nightclubs that stay lively until the early hours. There is also a sports centre with swimming pool, ice-skating available on the lake, bowling, as well as dog-sledding and ice-diving for those who want to try some alternative winter activities.
Getting to Tignes
With its blend of amazing skiing, and relatively cheap accommodation, Tignes is visited by thousands of skiers & snowboarders every week of the winter season. Unfortunately for them it also has one of the longest airport to ski resort transfers out there. Tignes' location at the end of the Tarentaise Valley means travelling there does take some time - it's definitely worth it in the end though.
Despite the long distance, Tignes' popularity means there are plenty of travel options during the ski season. The most popular method of travel for international holidaymakers will be to fly in to one of the four regional airports and take a private taxi or shared bus the rest of the way.
Chambery airport is the closest to Tignes, but it is also the smallest airport in the region. Chambery has moved towards taking private and package holiday company flights recently, but it is still possible to find seats on limited weekend flights.
Grenoble and Lyon airports are similar distances away from Tignes and offer a fairly similar service. They are big enough to accommodate a number of budget and International flights - particularly on weekends. Both are located close to highways and so offer a relatively quick transfer time to Tignes despite being over 200km away.
The biggest transport hub in the area is Geneva airport. Despite being just over the border in Switzerland, Geneva is the most popular choice for people going to Tignes due to its size. This means all low-cost airlines fly here and there are regular flights to Europe and the rest of the world.
Snowbus provides private transfers to Tignes ski resort from all four airports, as well as cheap shared transfer buses from Geneva and Grenoble airports to Tignes.
Airport Transfer Times & Distances to Tignes
All timings based on a private transfer journey in good weather and traffic conditions.
Chambery airport to Tignes - 142km / 2 hours 15 minutes
Geneva airport to Tignes - 176km / 3 hours 15 minutes
Grenoble airport to Tignes - 215km / 3 hours
Lyon airport to Tignes - 219km / 3 hours
Private Transfers to Tignes
Private taxis and minibuses are available from any of the four local airports to Tignes at any time and on any day of the week.
Snowbus' comfortable vehicles will take you straight from your flight to your hotel or chalet in Tignes in the quickest time possible. Private transfers are perfect for families or groups of friends and mean you can relax and be transported to your accommodation with the minimum amount of fuss.
Our private travel can be arranged for any size group - large or small - from 1 to 60 passengers. We use a range of minibus and coach vehicles to ensure the maximum amount of comfort for groups. Transfers are arranged around your flights so you spend the minimum amount of time on the journey and the maximum amount of time in the amazing ski resort of Tignes.
From this season onwards all Snowbus private transfers are available to book through our partners Snowcompare.com. They work with the best licensed and reliable transfer providers in each area to ensure customers get the very best possible deal. If you need to organise a private transfer be sure to use them to search, compare, book & save on Tignes ski transfers.
Shared Transfers from Geneva airport to Tignes
Shared transfers between Geneva airport and Tignes ski resort are the cheapest method of travel for individuals and small groups of travellers.
With regular scheduled buses running throughout Saturdays and Sundays, as well as routes on Fridays and Wednesdays - Snowbus' shared transfers are available from just £55pp.
Snowbus coaches stop at Tignes Les Brevieres, Tignes Le Lac and Tignes Val Claret (also for Tignes UCPA) and represent the most cost effective way of travelling from Geneva airport.
Wednesday Shared Transfer Times
Bus departs Tignes at 13:50
Bus departs Geneva airport at 19:30
Friday Shared Transfer Times
Bus departs Tignes at 12:35
Bus departs Geneva airport at 17:00
Saturday Shared Transfer Times (High Season)
Buses depart Tignes at 04:00, 05:45, 07:00, 09:00, 10:30, 12:15 & 13:45
Buses depart Geneva airport at 10:00, 12:15, 14:15, 16:45, 18:30, 20:15 & 21:30
Saturday Shared Transfer Times (Low Season)
Buses depart Tignes at 04:30, 06:20, 08:00, 10:00, 12:50 & 14:10
Buses depart Geneva airport at 10:00, 12:30, 14:50, 17:10, 19:30 & 21:30
Sunday Shared Transfer Times
Buses depart Tignes at 05:30, 08:20, 10:50 & 13:15
Buses depart Geneva airport at 10:45, 14:00, 16:30 & 18:15
Shared Transfers from Grenoble airport to Tignes
Snowbus shared transfers between Grenoble airport and Tignes ski resort are available every Saturday throughout the ski season.
With regular departures and convenient stops at Tignes Les Brevieres, Le Lac and Val Claret our cheap shared transfers are a perfect way of travelling from Grenoble.
Prices start from just £62pp meaning it is one of the most cost effective ways of travelling up to Tignes. We also endeavour to use smaller minibus vehicles for these shared transfers. This means less passengers, less stops and a quicker journey for everyone.
Saturday Shared Transfer Times
Buses depart Tignes at 05:30, 08:15, 09:45 & 11:45
Buses depart Grenoble airport at 12:00, 14:30, 16:00 & 18:45
Google Maps of Shared Transfer Bus Stops



Resort Maps & Shared Transfer Bus Stops