Transfers to Meribel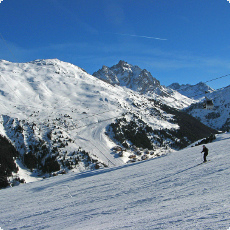 Situated at the centre of the huge Trois Vallees area, Meribel provides a fantastic base to explore the 600kms of pistes set within the world's largest ski area. Made up of several villages, the resort has retained its alpine charm better than most French resorts with wood and stone chalets sitting amongst other tasteful architecture. Meribel has always been popular with tourists and has a lively apres-ski scene, as well as a good selection of restaurants and bars. The Parc Olympique also has an ice-rink, bowling, climbing facilities, and a swimming pool
Meribel-Mottaret sits at an altitude of 1700m and is a pleasant little village which benefits from quick lift access to Val Thorens. Featuring more apartment style buildings than Meribel itself, the village still retains a wooden-clad design which is far nicer than in many other 1970s-built ski resorts.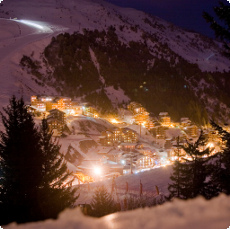 Les Allues is a more traditional village set at 1100m. Although small it still has all the local amenities you could need. There is a public bus service linking it with Meribel, and a gondola gives skiers access to all the best runs in the wider ski area.
The combined Meribel area features 15 gondolas and 19 chairlifts which give access to the incredible variety of slopes and terrain within the Three Vallees. Facilities for young skiers are impressive, and the ski area surrounding Meribel benefits from access to a huge amount of off-piste terrain. There are also two decent snowparks, 2 half-pipes and a boarder-cross course.
Airport Transfers to & from Meribel Ski Resort

To Search, Compare, Book & Save on ski transfers to Meribel we recommend using Snowcompare for all the best airport transfers on one easy-to-use website.

For shared transfers to Meribel we recommend using Ben's Bus for the cheapest bus journeys from Geneva, Grenoble and Lyon airports.
Getting to Meribel
As a resort popular with international tourists, the route to Meribel is taken by thousands of holiday-makers each week. With easy access from the highways and motorways which link the local airports - the travel time to Meribel is realtively quick for this area. Beware though that the roads stretching through the Tarentiase Valley can become extremely congested on weekends which adds a significant chunk of time to the journey.
As with all ski resorts in the vicinity, Meribel can be easily accessed from any of the four local airports. Transfers from Chambery, Geneva, Grenoble & Lyon airports to Meribel are easiest to book in advance. Hire cars are also available for self-drive holidays but just be aware that driving in snowy conditions can be difficult, and most places in Meribel will charge for parking.
Chambery airport is the closest to Meribel ski resort but in recent years there has been a decline in low-cost airlines flying here. It also suffers the worst from problems with bad weather due to it's proximity to the Alps. Many more passengers land in Geneva, Grenoble or Lyon and take the slightly longer journey up to Meribel. At quiet times and on good roads the travel time should be less than 2 hours 30 minutes from any of those airports - but of course the mountain roads are not always quiet or in good condition.
We would always recommend booking private transfers before you arrive rather than relying on taxis at the airport. These can be extremely costly, and many will not want to take the long trip to Meribel. Similarly, shared transfer buses are available from all local airports, but should always be booked in advance. It is also worth checking their timings as many will not run during the week or at night.
Airport Transfer Times & Distances to Meribel
All timings based on a private transfer journey in good weather and traffic conditions
Private Transfers to Meribel
Private transfers are the most convenient way of travelling from the airport to Meribel ski resort. Having a driver waiting when your flight lands ready to take your group straight to your accommodation door is undoubtedly the easiest way to start your ski holiday.
Pre-booking a private transfer between Chambery, Geneva, Grenoble & Lyon airports and Meribel is essential. Unfortunately it is not possible just to turn up and take a taxi to resort due to the distances involved. Booking online before you travel also ensures you can get the best prices possible for your Meribel transfers, and that everything runs as smoothly as possible once you touch down at the airport.
There are a plethora of local companies offering private transfers to & from Meribel during the winter months. The quality of vehicle used and the experience of the driver can vary, as can the price charged. We would recommend always checking out previous customer reviews before booking a private transfer, and please be wary of unlicensed individuals offering lifts in their cars (which would not be insured for taxi use).
For large groups of 8 and over passengers there are options to book a bigger mini-coach for your group to all travel together. Alternatively you could book two smaller vehicles and split the group across them. We Always think it is nicer to travel together where the option exists though. Coaches can also be arranged for very large groups.
We recommend checking out our sister website - Snowcompare.com - in order to book private airport transfers to Meribel. They work with all the best licensed transfer companies in order to provide accurate pricing to resorts all over France. Using Snowcompare ensures you get the cheapest transfers to Meribel from a reliable supplier.
Shared Transfers to Meribel
Due to its location at the start of the Tarentaise valley, Meribel ski resort beneifts from relatively short transfer times for this region. Shared airport transfers are therefore a very viable option when visiting Meribel as the coach journey is quicker than if you were travelling to further afield resorts such as Val Thorens or Val d'Isere.
Shared transfers from the airport to Meribel (and vice-versa) are a great option for holiday-makers travelling as individuals or in small groups as the cost is split down to a per-person price. Paying just for the seat you are using (unlike private transfers when you pay for the whole vehicle) brings the cost of shared transfers down massively.
Regular shared transfer lines run between Meribel and the four local airports of Chambery, Geneva, Grenoble & Lyon run every weekend of the ski season. On Saturdays & Sundays it is relatively easy to find a convenient transfer, but we would always recommend booking online before you travel to avoid any issues on arrival.
On weekdays Meribel shared transfer timetables tend to be much reduced or even non-existent from the smaller airport of Chambery. These bus transfer timings will also be more spread out through the day and may stop earlier in the evening depending on customer demand. It is essential to check shared transfer timetables at the same time as booking flights. In our experience, finding a cheap flight that lands at an early or late time on a weekday can also lead to only much more expensive transfers being available to you.
Resort Maps & Shared Transfer Bus Stops