Transfers to St Martin de Belleville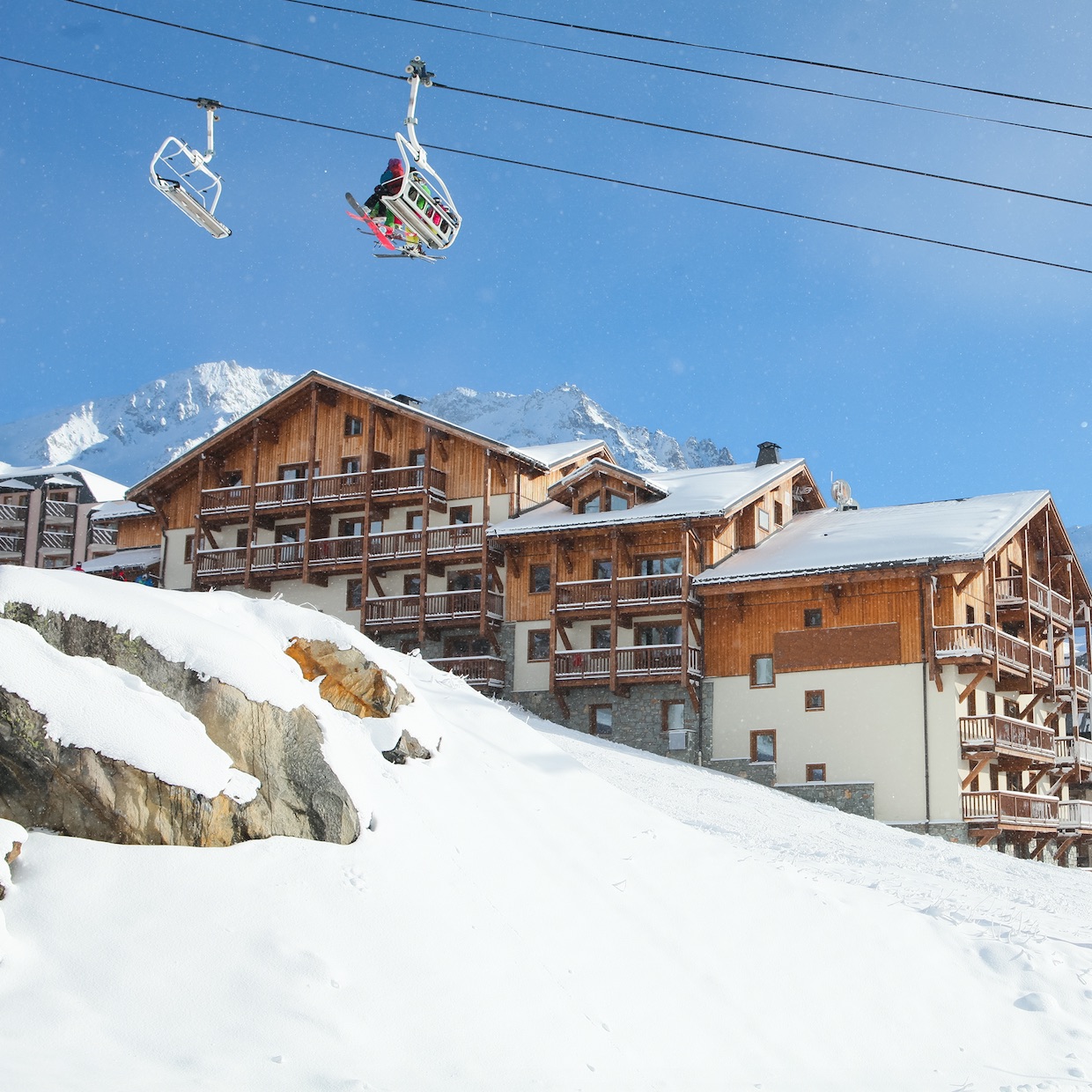 An unspoilt village with a pretty 16th century church, small square and aesthetic wooden buildings, St Martin de Belleville is a quiet and relatively inexpensive resort. Situated at 1450m and at the entrance to the Vallee des Belleville, this traditional Savoyard ski resort has been developed in a sympathetic manner to meet the growing demands of holidaymakers whilst keeping its own unique charm.
The combination of a traditional and charming setting plus easy access to the Trois Vallees and its huge ski area makes Saint Martin a perfect destination for families and serious skiers alike. The village has stayed true to its origins but also offers high quality chalet accommodation, a friendly atmosphere and gourmet cuisine.
The lightly wooded slopes surrounding the valley offer long and easy pistes perfect for intermediate skiers, while a draglift from above the village square offers easy access to higher areas. Quick ski lifts also run to the neighbouring resorts of Les Menuires, Meribel and the rest of the Three Valleys ski area for those who want to explore further afield
St Martin de Bellevile has little in the way of raucous nightlife but is perfect for families looking to make their own entertainment in the evenings. There are some nice local shops, and far from being a backwater it has the first Savoyard restaurant to have gained 3 Michelin start - La Bouitte.
Airport Transfers to & from St Martin de Belleville Ski Resort

To Search, Compare, Book & Save on ski transfers to St Martin de Belleville we recommend using Snowcompare for all the best airport transfers on one easy-to-use website.

For shared transfers to St Martin de Belleville we recommend using Ben's Bus for the cheapest bus journeys from Geneva, Grenoble and Lyon airports.
Getting to St Martin de Belleville
The journey to St Martin de Belleville is not one of the quickest, but is relatively straightforward thanks to good transport links and roads. By far the most popular method of travel for international visitors is to fly into one of the four local airports and take a private taxi or shared transfer up to the ski resort.
Chambery is the closest of these airports with a journey time of a little over 1 and a half hours. It is one of the smallest transport hubs in France though and therefore tends to have less flights. Most popular is Geneva airport just over the border in Switzerland. The high level of low-cost flights to Geneva means skiers & snowboarders can find cheap journeys here. Lyon and Grenoble airports are a similar distance from St Martin and see a good amount of travellers, but slightly less than Geneva.
Private taxi transfers are readily available from all the airports - but we would always suggest arranging these before you travel rather than relying on finding something when you land. Shared transfers are a cheap way of travelling to St Martin de Belleville too and tend to be a good option for individuals, couples and smaller groups. Snowbus operate shared transfers from Geneva and Grenoble airport on the busiest travel days, but it is always worth checking the timings (below) when booking flights to ensure the best overall travel deals.
Airport Transfer Times & Distances to St Martin de Belleville
All timings based on a private transfer journey in good weather and traffic conditions.
Private Transfers to St Martin de Belleville
Private transfers are the quickest and easiest way to travel to St Martin de Belleville. With your driver waiting when you land, a minibus just for your group, and a direct journey to your chalet door - private transfers are a great way to start and end your ski holiday.
Companies offering private transfers from the four local airports - Chambery, Geneva, Grenoble & Lyon - to St Martin de Belleville ski resort are relatively easy to find. Transfers can be arranged at any time of day on any date during the ski season to fit your travel plans. We would always recommend booking in advance of travelling though as no local taxi service exists due to the large distances involved in getting to St Martin de Belleville.
With the shortest journey time, private transfers from Chambery airport will be the cheapest to buy. However, Geneva, Grenoble & Lyon tend to offer cheaper international flight options with low-cost providers. Private taxi transfers from these three airports are readily available but the associated cost will reflect the 2.5 - 3 hour journey time.
Most private transfers will be run in 8 seat minibuses. These vehicles provide space for the most amount of passengers and luggage without requiring additional specialist driving licenses. If you have a travelling group of between four and eight passengers then the per-person cost of hiring a private transfer vehicle are reasonable. However, if you are part of a smaller group then it may be best to look at the economics of getting shared transfers instead.
There are a small number of companies with the additional licenses needed to organise large vehicle transfers for bigger groups going to St Martin. Mini-coaches and full size coaches can be arranged to take groups of up to 60 passengers between any airport and St Martin de Belleville ski resort. These larger vehicles are usually preferable to the use of 2 or 3 smaller minibuses, and there is always plenty of room for your luggage and ski equipment with child seats provided on request.
We would recommend buying your private transfer through our sister website Snowcompare.com. They work with all the best licensed and reliable transfer providers in St Martin de Belleville to make sure you get the best possible private transfer journey. By putting all the companies and prices in one place Snowcompare ensure you get the cheapest & best private transfer deals to St Martin de Belleville.
Shared Transfers to St Martin de Belleville
Shared bus transfers to St Martin de Belleville don't give the convenience of a private transfer - but the advantage is that they tend to be much, much cheaper. By running buses at set times throughout the day it is possible to bring together passengers from multiple flights and bring down the cost for each person.
For smaller groups and individual travelling from the airport to ski resort we would recommend checking the timings and prices of shared transfer services before buying your flights. Shared transfer services tend to operate only at peak travel times (Ie; weekends) to reflect the number of customers looking to get to St Martin. Purchasing a cheap flight at an odd time or date can seem like a great plan, but without checking out the corresponding airport transfer it could also lead to a costly or inconvenient journey once in France.
Shared transfer services from Chambery are fairly limited and restricted just to the weekends. From Geneva to St Martin de Belleville there is a fairly fully service operating daily, but with many fewer vehicles operating during the week. From Grenoble and Lyon airports shared transfers tend to only operate on weekends.
Most shared transfers will stop at a central location in St Martin de Belleville which is as convenient as possible for all passengers. Luckily the resort is fairly small so there should only be a short walk for almost all accommodation. To see the best shared transfer options, including timings, prices & customer reviews - we would recommend our sister website Snowcompare.com.
Resort Maps & Shared Transfer Bus Stops