Val d'Isere
From humble beginnings as a small farming village, Val d'Isere has developed into one of the most famous modern alpine resorts in the world. Far from being exclusive though, it welcomes all visitors to it's much publicised slopes. Russian oligarchs share gondolas with gap year students, the bars serve as many bottles of Dom Perignon as they do Corona, and it's possible to spend as much time window shopping in jewellers as bakeries along the expansive main street.
A largely attractive town, Val d'Isere has managed to retain much of it's village ambience while it has grown in size and popularity. Some 1970s designed buildings have crept in but stone and wood chalets still give it an old town charm and provide more upmarket accommodation for those who can afford it.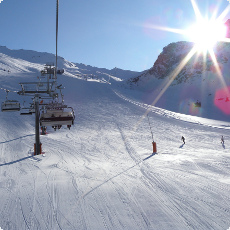 Made up of the main Val d'Isere town, with the apartment block heavy village of La Daille, and the more rustic Le Fornet at opposite ends, one main road runs through the valley and encompasses the vast majority of shops, restaurants and bars around it. A comprehensive bus service also runs around the whole area making everything easily accessible. This also helps towards a pedestrian friendly town centre, and driving is generally discouraged throughout the resort.
Similarly to Tignes, who it shares the 300kms of pistes in the Espace Killy with, Val d'Isere enjoys some of the best snow conditions in France and has an excellent snow record throughout the whole season. It enjoys a justifiable reputation as a great resort for intermediate and advanced skiers, with easily accessed and challenging off-piste sections. High capacity, fast ski lifts also mean very few queues and great connectivity on all points around the mountain.
The DC snow park has a whole range of jumps and rails for all ability levels. Val d'Isere also hosts the downhill skiing world cup every December on it's OK and Face pistes, which can be accessed by the public at all other times.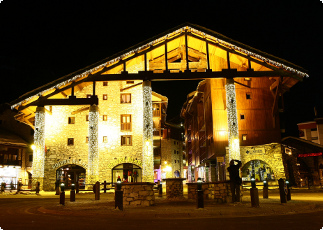 Val d'Isere remains popular with British tourists and gap year students, which is reflected in it's lively nightlife. The Folie Deuce bar and restaurants hosts an Austrian-style afternoon rave on the mountain and is often a highlight of people's trips with champagne regularly sprayed out on the attractive crowd taking in the live music. Away from the slopes a brand new sports centre was opened a few years ago with swimming pool and gym, plus an ice driving course and skating are also available.