Transfers to Val d'Isere - Centre, La Daille, Le Fornet & UCPA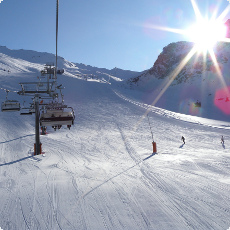 From humble beginnings as a small farming village, Val d'Isere has developed into one of the most famous modern alpine resorts in the world whilst still retaining much of its traditional ambience. Universally popular with tourists from all nations, Val d'Isere has all the facilities needed for any kind of holiday. Lively bars and luxurious shops sit next to classic French patisseries and a modern sports centre with swimming pool and gym, plus an ice driving course are also part of the large range of amenities.
Val d'Isere is made up of the main town plus the apartment-block heavy village of La Daille and the more rustic Le Fornet located at opposite ends of the resort. One main road runs through the resort and the vast majority of shops, restaurants and bars are based either on, or very close to, this main road.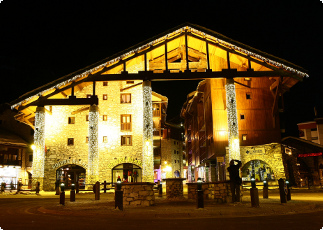 Sharing the 300kms of pistes in the Espace Killy with Tignes, Val d'Isere has some of the best snow conditions in France and has an excellent snow record throughout the whole season. It enjoys a justifiable reputation as a great resort for intermediate and advanced skiers, with easily accessed and challenging off-piste sections as well as a large snowpark. High capacity, fast ski lifts also mean very few queues and great connectivity on all points around the mountain.
Airport Transfers to & from Val d'Isere Ski Resort

To Search, Compare, Book & Save on ski transfers to Val d'Isere we recommend using Snowcompare for all the best airport transfers on one easy-to-use website.

For shared transfers to Val d'Isere we recommend using Ben's Bus for the cheapest bus journeys from Geneva, Grenoble and Lyon airports.
Getting to Val d'Isere
Val d'Isere is consistently voted one of the best ski resorts in the world with good reason. With excellent skiing, plus lively drinking or refined eating in the evenings based on your preference, Val offers a great holiday for thousands of tourists each week of the winter.
Holidaymakers travelling to Val d'Isere will be best served by flying to one of the four local airports in the region. Chambery, Geneva, Grenoble or Lyon airports run international flights with regular arrivals and departures from December to April for the ski season.
Airport transfers to Val d'Isere are not the quickest in the region due to the resort's location at the very end of the long, winding Tarentaise Valley. The distance means they are also not the cheapest ski transfers when compared to closer resorts - but Val d'Isere more than makes up for a slightly longer journey time.
There are plenty of travel options available for skiers & snowboarders going to Val d'Isere. We would suggest pre-booking either a private or shared transfer with a reliable, licensed company to take as much of the stress out of the journey as possible.
Chambery is the closest airport to Val d'Isere at just over 140km. It has the quickest and cheapest private transfers on offer and is a great option for those people who want to spend as little of their holiday as possible travelling. However, Chambery is also the smallest of all the airports in the area and as such low-cost flights here are limited. If you can find a convenient flight to Chambery it is still a great option to get to Val d'Isere though.
Geneva airport in neighbouring Switzerland is by far the most popular airport for those travelling on to Val d'Isere. Despite being in a different country, it is only a 10 minute hop over the border to France and onwards to Val d'Isere. Regular flights from low-cost airlines from around Europe make it the number one airport in the region for skiers & snowboarders for good reason. Due to the number of people arriving and departing, shared or private transfer options are also more plentiful from Geneva airport.
Grenoble & Lyon airports are located a further distance from Val d'Isere than Geneva airport. However, because of the excellent transport links to the quick French highways the journey time up to Val d'Isere from either is actually around the same as from Geneva.
Airport Transfer Times & Distances to Val d'Isere
All timings based on a private transfer journey in good weather and traffic conditions.
Private Transfers to Val d'Isere
Private taxi transfers from any airport are by far the quickest and most convenient way to travel up to Val d'Isere. Having a driver waiting for your group when you landand ready to take you straight to your accommodation door is the ultimate way to begin and end your ski holiday.
Private transfers are available to book online from any of the local airports - Chambery, Geneva, Grenoble or Lyon - to Val d'Isere and can fit in to any flight on any date. The comfort and convenience of travelling as one group in your own vehicle cannot be overstated and is definitely the easiest way to arrive or depart.
The majority of private taxis will operate in 8 seat minibuses which are big enough to transport most groups and their luggage, but are also quick enough to travel the motorways at speed. They are also the most effective vehicles for travelling up and down snowy mountain roads. All vehicles should be fitted with winter tyres, meaning they are safe in winter conditions and will only require the fitting of tyre chains in the most severe storms.
For groups of 4 or more passengers a private transfer works out relatively economic price-wise too. However, if you are part of a smaller group or travelling alone it may be worth considering shared transfers where the cost is more affordable.
If you are lucky enough to be skiing in a group of over 8 friends or family then you will want to look at a company with a larger mini-coach vehicle. This is usually always better than paying for 2 smaller vehicles and drivers. Due to Val d'Isere's popularity there are a great number of companies offering private airport transfers. It is still worth checking that they are reliable and fully licensed before committing to booking though.
We recommend checking our partner website Snowcompare.com for private transfers to Val d'Isere. They work with all the best companies in the area and allow you to compare and book transfers based on price, availability and previous customer reviews. Be sure to check them out for the cheapest private airport transfers to Val d'Isere.
Shared Transfers to Val d'Isere
For smaller groups and individual travellers shared bus transfers work out as a much more economical way of getting to Val d'Isere. By having coaches leaving the airport and resort at set times, shared transfers join passengers from similar flights together and make the cost of a transfer cheaper for everyone.
It is certainly not as convenient as getting a private transfer, but the cost savings make up for this for most people. There is almost certain to be a little waiting time at either end of your holiday but with a bit of research and planning it is still possible to minimise this as much as possible.
Most shared transfers will usually drop-off at a central location in Val d'Isere (almost always the central bus station), as well as having a stop in the La Daille area of the resort too. Val d'Isere resort is a little bigger than some other places so there could potentially be a little bit of walking involved, but luckily the wya the town spreads out from the main road means this is minimal for most passengers.
Shared airport transfers will normally run in larger coach or bus vehicles but there is the possibility that there will be a change of vehicles required to a smaller minibus to come up the mountain from Bourg St Maurice. The journey time is therefore longer, but as mentioned before, the much lower cost versus private transfers usually offsets this for most customers.
Shared transfers tend to be organised according to the most popular travel times and dates in order to maximise passenger numbers for the companies. Essentially, this means that weekend transfers from each airport run pretty regularly and are fairly easy to find. If you are flying in or out on a weekday or late at night though we would definitely recommend researching shared transfer options before booking what is seemingly a great deal on a flight. Cheap flights at inconvenient times may make for a much more expensive transfer up to Val d'Isere than you had budgeted for.
Our sister website Snowcompare.com work with a number of companies running shared transfers to and from Val d'Isere ski resort. By putting all the travel options on one website they take the leg work out of finding the best and cheapest shared transfers to Val d'Isere.
Resort Maps & Shared Transfer Bus Stops